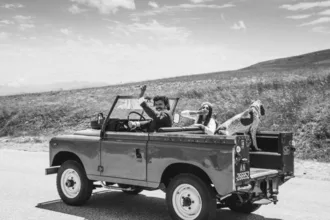 Giuliva Heritage: our story

It happened one day that Margherita tried on Gerardo's double breasted topcoat and she never gave it back. After all, she had been borrowing clothes from her father's and grandfather's closet since she was a teenager. Those high-­‐waisted trousers, the tailored dream jackets, where else would she get them? For Gerardo on the other hand, grown up in Salerno, fine tailoring had always been a part of his identity, rooted in his personal history, coursing through his veins. He had been wearing bespoke, handmade trousers, jackets, and shirts since forever.
When Margherita and Gerardo met in Rome, she was managing a luxury and lifestyle communication consulting firm, while he was running a Neapolitan atelier creating bespoke clothing for men: Sartoria Giuliva. It was love at first sight – not only for Margherita and Gerardo as partners (they were meant to build a loving, happy family) but also for Margherita Cardelli and Gerardo Cavaliere as entrepreneurs, which saw a gap in the market and decided to fill it.
They created something that wasn't there before: the first sartorial prêt-­‐à-­‐porter womenswear collection using the finest fabrics and traditional techniques in order to craft timeless, iconic garments. Our first collection was launched in Paris in February 2017 with a women's outerwear line inspired by men's cuts: full-­‐length pieces, feminine reinterpretations of classic menswear silhouettes. Our first prêt-­‐à-­‐porter men's collection was launched three years later in Paris.
«We started with coats because they were the natural transition from men's tailoring into women's», say Margherita and Gerardo today. «We both love the idea of perfect pieces that are meant to last a lifetime», they add, «the way that our grandparents used to own just a few garments, and nonetheless they always had the right thing to wear to every event… Those were pieces that lasted, statement pieces in a way». And so it all happened.